Dear Dan,
I have been meaning to write a while now but frankly have not had the energy. Last week I attempted to but for the first time in the near-on 10 years I have been writing for The Age, had to tell my editor I just wasn't up to it.
You see, I am not well at the moment, mentally or spiritually. I have felt myself slipping for months now but these last few weeks have been shockers, aided and abetted with concern for a gravely ill friend I can't even visit in hospital. I am so ratty and short tempered I have found myself barking at my dogs. I have been avoiding friends who seem to be coping better than I am; shunning social media with its posts of happy times; and not returning the calls of those I love, as have zero to say and want to save them my grief. Basically, I am a shell of my normal self, and a brittle one at that.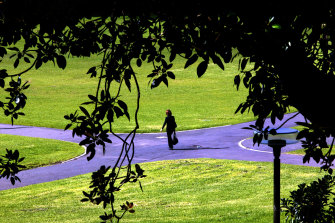 Is Melbourne's long lockdown going to finally come to an end?Credit:
As a result, my bed is singing a siren song to my psyche, beckoning me to lie down and shut the world off, but I know where that leads and it is to a dark place. So, I am fighting the desire to shut down and curl up and putting my hand up to declare I am struggling instead. I know how important it is for mental illness to be recognised as the common illness it is (one in two Australians will suffer at some stage) and if I can help destigmatise and strip the disease of shame, then I am happy to expose myself as vulnerable. Because what concerns me is that I am acutely aware I am not alone in feeling as empty and deflated as I currently am. It seems nearly everyone I speak to in my beloved home city of Melbourne is feeling similar to some level. We are all riding an emotional rollercoaster of feelings that are tipping us from coping to crashing.
And Commonwealth Health Department figures disclosed this week prove it, showing more than a million Australians have sought mental health treatment during the COVID-19 pandemic, with a 30 per cent rise for children's mental health services in Victoria alone since last month – more than double that of New South Wales. Meanwhile, mental health service Beyond Blue is reporting a 77 per increase in calls to its counselling lines in Victoria.
These figures have caused Federal Health Minister, Greg Hunt, and Treasurer, Josh Frydenberg, to urge Victorian Premier Daniel Andrews to ease restrictions to address the unfolding mental health crisis as a priority. "My message again today and every day to the Premier of Victoria is please understand the impact that the lockdown and these harsh restrictions are having on people's mental health," Frydenberg said. "Please give the people of Victoria their freedom back this weekend."
As much as I have been a champion of lockdown and understand it is a necessary means to an end, I believe the solution has now become the problem. There is only so much seclusion and isolation a human can cop, so much stress and insecurity about our futures we can deal with. We have had seven months of anguish now, something has to give. And soon.
My world is very small at the moment yet almost everyone I speak to is echoing this sentiment. One woman at my local dog park has confessed she is a teary mess most days and has experienced suicidal thoughts. Another man told me he has anxiety attacks so debilitating, he now won't drive his car in case he experiences another behind the wheel. My neighbour is devastated he can't attend the funeral for his best friend, while my bubble buddy, my only sanctioned company, is on her way to me after messaging saying she is feeling wobbly and doesn't think it will be healthy for her to spend another night alone.
It was my birthday last week (you know there were no celebrations to be had so don't even ask) and the young woman delivering a bunch of flowers from a concerned friend in Sydney admitted she is finding it an ordeal to get up each day and go to work. When I told her, I feel the same way and that I, too, have been struggling work-wise, battling to meet deadlines and fearing I'm not delivering to my potential, she erupted in tears. She thought it was just her.
You see, for many Victorians, this is their first experiences of anxiety and/or depression and they do not have coping strategies to help. They can't seem to articulate what is going on, only that they are not themselves – at all – and they don't know what their moods will be like from one minute to another. Some I fear, may be suicidal. And to these I plead, put your hands up, reach out for help, and know you are not alone or flawed in any way. You are simply human. We are pack animals and need to socialise, regardless of introvert or extroverted tendencies. What we are experiencing with lockdown restrictions is not natural, but the side effects certainly are.
Look Dan, I understand the importance of getting the numbers down but I also think it is time you consider the mental health side-effects of lockdown and ask whether they are not as dangerous and debilitating as the consequences of the virus itself. We are all suffering and I worry that we will not be able to bear more of the same.
There is so much heartbreak and despair and so little hope and light in our beautiful city at the moment. Please give us a more than a glimmer tomorrow Dan, something real and tangible to show our suffering is paying off and some sort of normality is ahead. Because if it's not coming, I know where I am likely to be heading, and I fear it that's back to bed.
Wendy
Wendy Squires is a regular columnist.
If you or anyone you know needs support call Lifeline on 131 114, or Beyond Blue's coronavirus mental wellbeing support service on 1800 512 348.
Most Viewed in Lifestyle
Source: Read Full Article