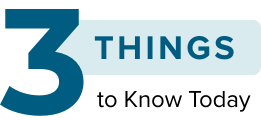 Evictions Endanger Health
Evictions are on the rise, along with a higher risk for bad health as a result.
More people are being evicted as pandemic-related moratoriums end at the state and federal level.
But research shows that evictions are linked to a range of bad health outcomes, loss of access to medical care, and a downward spiral of poor health.
Stability is fundamental: Stable housing is one of five social determinants of health and has a special status as the most fundamental.
What to do: Physicians and the healthcare system can mitigate the harm by supporting patients facing eviction and housing insecurity.

Few Patients With Cancer Bank Sperm
Young men facing infertility as a result of cancer treatment have a fast, cheap option: sperm banking.
This opportunity, however, is often not offered to such patients, partly because of misconceptions that it's expensive or could delay treatment, according to a new review. About one quarter of those who survive cancer become infertile.
Not enough referrals: Only 43% of eligible patients with cancer report being counseled on fertility preservation options, according to a 2020 survey, and semen cryopreservation was offered to only 25% of adolescent patients with cancer.
Outcomes are good: Most young men who develop cancer have a good chance of survival. Among male patients aged 15-39 years who are diagnosed with cancer, the survival rate is 80%. For patients with certain cancers, it is even higher, up to 95% at 5 years.

Cancer Risk Higher for Children From Frozen Embryos
Children born after frozen-thawed embryo transfer (FET) may have a higher risk for cancer than do children born through fresh embryo transfer or spontaneous conception, a new study suggests.
The risk is higher despite the fact that FET improves embryo survival and leads to higher live birth rates.
But study authors advise that the results should be interpreted cautiously because of the low number of cancer cases among children born using FET. The study was published in PLOS Medicine.
FET on the rise: In the US, the FET rate doubled since 2015 and constituted almost 80% of all embryo transfers using assisted reproductive technology without a donor in 2019.
High risk? The incidence rate of cancer for those born after FET was 30.1 per 100,000 person-years — 48 total cases — compared with 18.8 per 100,000 person-years after fresh embryo transfer.
For more news, follow Medscape on Facebook, Twitter, Instagram, and YouTube
Source: Read Full Article