Imagine this – a teenage cricket sensation is playing in her Test match debut. Having received her baggy green from the captain, she walks out to open the batting. Her stay at the crease is longer than she has ever experienced before, and in the final session of the day she brings up a test century.
She raises her bat in triumph – this image instantly becomes famous, not because of the remarkable on-field feat, but because of the bright red blood stains between her thighs. While many expected this teenager to slink off in shame, she instead proudly fronts the media afterwards. "I love periods" she beams, "they remind me every month how powerful we are."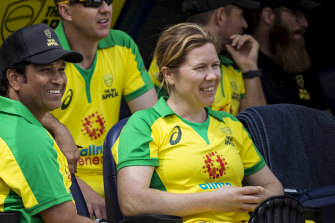 Sachin Tendulkar and Alex Blackwell on the bench at the Bushfire appeal charity match. Credit:Chris Hopkins
It is only a matter of time before a test cricketer has a life-changing period accident broadcast live for the world to see. Unfortunately, a more likely scenario than the one imagined above, is that the period accident irreparably damages the cricketer's self-confidence, and perhaps marks her life in ways she'd prefer it didn't.
Managing periods while playing sport is commonplace for female athletes, starting from on average 12 years of age. While not all female athletes menstruate, and not all athletes who menstruate are women, as professional sporting opportunities for women have increased, so too has research into the impact of periods on athletic performance and engagement in sport.
I was this teenage batter once. After scoring a century for UNSW against Sydney University, I walked off the field for the lunch break with my head held high. The glowing feeling quickly subsided when my twin sister, who was fortunately playing too, quietly told me that I was bleeding and needed to change my white pants. The embarrassment intensified as I realised I would have to complete the fielding innings wearing my casual shorts.
In 251 matches playing for Australia I was lucky to not experience the terror of a period accident on the field. Now, as a retired player, I get to watch my former team on TV. It is only now, watching the slow-motion replays and low-angle shots, that I recognise the gauntlet I ran every month while playing in either white, canary yellow, baby blue or lime green pants depending on the team. Well in advance of my period arriving I would use super absorbency tampons during a match – which is neither advisable or comfortable – just in case. Teammates of mine and even female umpires would use the pill to skip their period altogether during important matches.
White pants simply must be removed from women's sport.
The fear of bleed-through accidents could impair performance in elite sport, while at grassroots level white pants have been found to be a deterrent for girls signing up to play. Multiple surveys of girls have found they prefer their uniforms to be shorts rather than skirts and a dark colour. Gone should be the days of overly skimpy, sexualising or traditional uniforms that have simply never catered for the needs of girls and women.
Boys are three times more likely to play sport than girls. If we can remove barriers to participation, this will not only strengthen our national female teams, it will help our economy. More girls and women being active will improve national health measures and reduce costs to our nation.
Moreover, with participation in competitive sport being the one attribute shared by 94 per cent of women in C-Suite leadership positions, female engagement in sport could be part of the answer to achieving a gender balance in Australian corporate and political landscapes
Australia's women's team wears their white outfits in the January Ashes Test against England.Credit:Getty
"But what about the tradition?" I hear the mostly male administrators of Test cricket and Wimbledon say.
While sports have gradually opened their doors to women, they have had to contort themselves to fit into traditions that do not serve them. On the other hand, women remain ostracised from other traditions, such as five-set tennis matches or five-day Test cricket. If our baggy greens are different, with the red ribbon restricted to the men's caps only, then why should the rest of the uniform remain the same for the sake of tradition?
Alex Blackwell played cricket for Australia more than 250 times and is the author of her memoir Fair Game.
Most Viewed in Lifestyle
From our partners
Source: Read Full Article