First, Jennifer Lopez and Alex Rodriguez shared their gym routine (couple goals, much?). Now, the pair is embarking on a 10-day diet challenge together—and they're struggling just a bit.
A.Rod first posted about the challenge two days ago: "Join me and Jennifer for a 10-day challenge. No carbs, no sugar. Who's in?" he wrote, adding, "Someone hide the cookie dough."
View this post on Instagram
We pinky promise. 🤞🏽 . . . Join me and Jennifer for a 10-day challenge. No carbs, no sugar. Who's in? 😰 . . . Challenge two of your friends below. 👇🏽 . . . Someone hide the cookie dough 🍪 #ignoremydancing
A post shared by Alex Rodriguez (@arod) on
The following day, A.Rod posted a photo of himself with what looks like a huge steak. "No carbs + no sugar = lots of meat," he wrote, touting the challenge once again.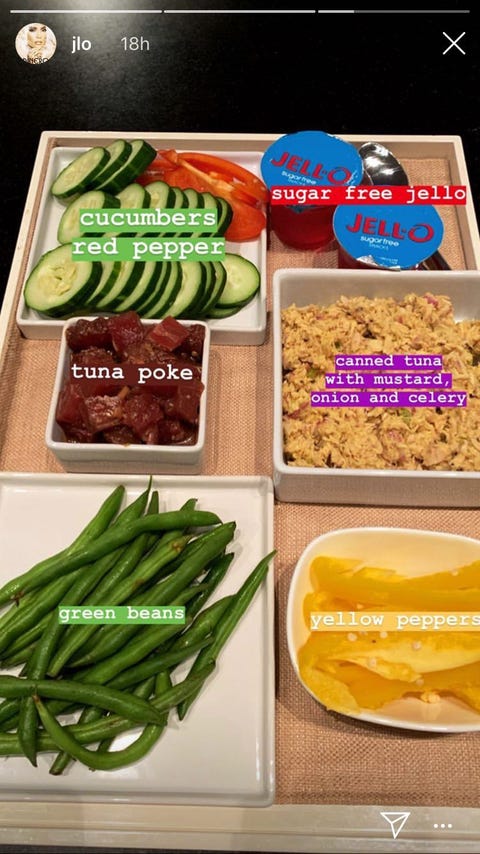 Jennifer Lopez, Instagram
But apparently, the second day of the challenge hit both J.Lo and A.Rod a little harder than they expected. According to J.Lo's Instagram Stories, the first 24 hours on the no-sugar, no-carbs diet "taught [her] a lot about what sugar does to the body," she said.
Just a few hours later, J.Lo hit a road block. "So it turns out, when you don't have sugar and you don't have carbs, you're really really hungry all the time," she said in another Instagram Story. "So we're trying to figure out a lot of good snacks," she added. She shared those snacks in the next slide: cucumber, red peppers, yellow peppers, tuna poke, green beans, canned tuna, and sugar-free Jell-O.
A.Rod also shared his difficulties on the diet in his Instagram Stories: "I'm on the second day of this 10-day challenge, it seemed like a great idea when I challenged all of you," he said. "I have had eggs and avocado today. I'm dying," he added.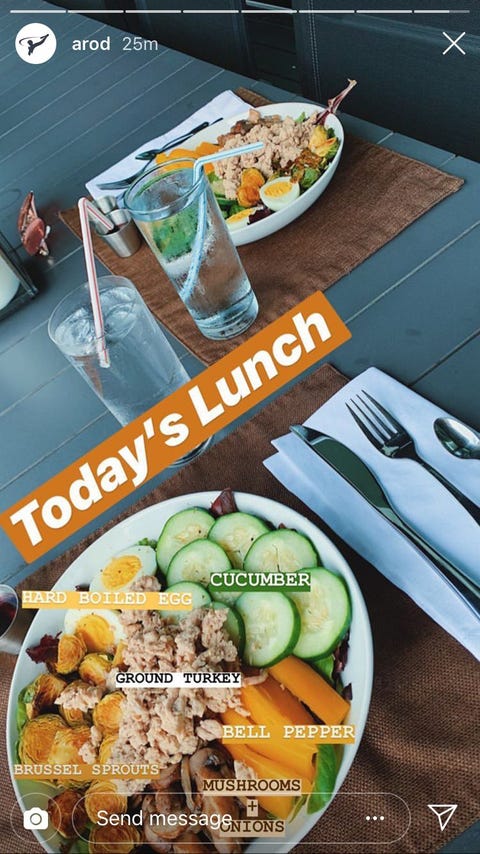 Alex Rodriguez, Instagram
A.Rod also shared his and J.Lo's lunch on the third day of the challenge: a huge salad with hard boiled eggs, cucumber, bell peppers, mushrooms, onions, ground turkey, and Brussels sprouts.
Both J.Lo and A.Rod also challenged a few of their famous friends to do the challenge with them, since they were "feeling lonely," including Hoda Kotb and Michael Strahan, among others.
This sounds a lot like the high-fat, low-carb keto diet (eggs and avocado!), so I hope they don't have the keto flu in their future. Either way, I'm sending them all my strength, because damn, giving up cookie dough really is hard.
View this post on Instagram
Are we starting to lose our minds? Maybe … just a little. 😜 But it's not too late for you to join us in this 10-day challenge! No sugar, no carbs. No problem! Are you up for it? @LEAHREMINI, @EGT239, @HODAKOTB, @GARYVEE, @MICHAELSTRAHAN, @markmsm6
A post shared by Alex Rodriguez (@arod) on
Source: Read Full Article