Kim Kardashian West just posted a throwback photo on Instagram with the simple caption: "Kinda missing blonde hair."
Yeah, her hair looks awesome blonde—but also hello, abs! Her midsection looks insanely toned, highlighted by a cropped long sleeve shirt. Which begs the question: Kimmy, how'd you get that six-pack?!
View this post on Instagram
A post shared by Kim Kardashian West (@kimkardashian) on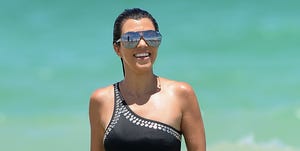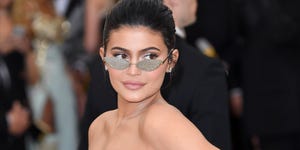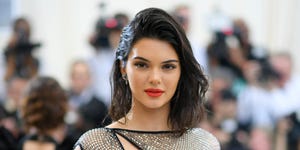 It's no secret that the Kardashians prioritize exercise. Kim works with trainer Melissa Alcantara, who helps keep her in tip-top shape. With their jam-packed schedules, Alcantara previously told Women's Health that she and Kim wake up at the crack of dawn to fit in her workouts, 6 a.m. (!!) to be exact.
The hustle is real: Kim works out six days a week for an hour and a half to an hour and 45 minutes, depending on the day.
View this post on Instagram
A post shared by Kim Kardashian West (@kimkardashian) on
While she's perhaps more famous for her butt, she dedicates an entire workout to her abs, Alantara said. Some go-to moves to keep Kim's abs poppin' include lying leg raises, reverse v-ups, and bicycle crunches. (Get Kim's complete abs workout.)
View this post on Instagram
A post shared by Kim Kardashian West (@kimkardashian) on
The KUWTK star is all about strength training, too. And Alcantara says she barely does any cardio at all! "We don't go crazy on the cardio," the trainer said. "85 percent of our training is weight training, and the other 15 is made up of cardio."
View this post on Instagram
A post shared by Kim Kardashian West (@kimkardashian) on
For the little cardio Kim does do, she'll walk on the treadmill for about 20 minutes, mixing it up with 10 minutes of sprints, which Kim apparently despises. "She hates sprints," Alcantara said. "But she does them still, no problem. She knows that the worst sh*t is the thing that works."
Source: Read Full Article