Klay Noto wants to be the kind of doctor he never had when he began to question his gender identity.
A second-year student at Tulane University School of Medicine in New Orleans, Louisiana, he wants to listen compassionately to patients' concerns and recognize the hurt when they question who they are. He will be the kind of doctor who knows that a breast exam can be traumatizing if someone has been breast binding or that instructing a patient to take everything off and put on a gown can be triggering for someone with gender dysphoria.
Being in the room for hard conversations is part of why he pursued med school. "There aren't many LGBT people in medicine and as I started to understand all the dynamics that go into it, I started to see that I could do it and I could be that different kind of doctor," he told Medscape Medical News.
Noto, who transitioned after college, wants to see more transgender people like himself teaching gender medicine, and for all medical students to be trained in what it means to be transgender and how to give compassionate and comprehensive care to all patients.
Gains have been made in providing curriculum in transgender care that trains medical students in such concepts as how to approach gender identity with sensitivity and how to manage hormone therapy and surgery for transitioning patients who request that, according to those interviewed for this story.
But they agree there's a long way to go to having widespread medical school integration of the healthcare needs of about 1.4 million transgender people in the United States.
According to the Association of American Medical Colleges (AAMC) Curriculum Inventory data collected from 131 US medical schools, more than 65% offered some form of transgender-related education in 2018, and more than 80% of those provided such curriculum in required courses.
Lack of Transgender, Nonbinary Faculty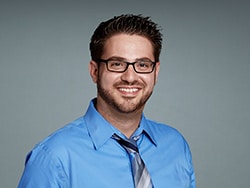 Dr Jason Klein
Jason Klein, MD, is a pediatric endocrinologist and medical director of the Transgender Youth Health Program at New York University School of Medicine in New York City.
He told Medscape Medical News the number of programs nationally that have gender medicine as a structured part of their curriculum has increased over the last 5 to 10 years, but that education is not standardized from program to program.
The program at NYU includes lecture-style learning, case presentations, real-world conversations with people in the community, group discussions, and patient care, Klein said. There are formal lectures as part of adolescent medicine where students learn the differences between gender and sexual identity, and education on medical treatment of transgender and nonbinary adolescents, starting with puberty blockers and moving into affirming hormones.
Doctors also learn to know their limits and decide when to refer patients to a specialist.
"The focus is really about empathic and supportive care," said Klein, who is also an assistant professor in the department of pediatrics at Hassenfeld Children's Hospital at NYU Langone Health. "It's about communication and understanding and the language we use and how to deliver affirming care in a healthcare setting in general."
Imagine the potential stressors, he said, of a transgender person entering a typical healthcare setting. The electronic health record may only have room for the legal name of a person and not the name a person may currently be using. The intake form typically asks patients to check either male or female. The bathrooms give the same two choices.
"Every physician should know how to speak with, treat, emote with, empathize with care for the trans and nonbinary individual," Klein said.
Klein notes there is a glaring shortage of trans and nonbinary physicians to lead efforts to expand education on integrating the medical, psychological, and psychosocial care that patients will receive.
Currently, gender medicine is not included on board exams for adolescent medicine or endocrinology, he said.
"Adding formal training in gender medicine to board exams would really help solidify the importance of this arena of medicine," he noted.
First AAMC Standards
In 2014, the AAMC released the first standards to guide curricula across medical school and residency to support training doctors to be competent in caring for transgender patients.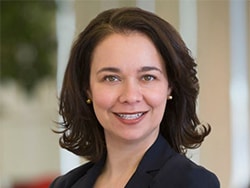 Dr Norma Poll-Hunter
The standards include recommending that all doctors be able to communicate with patients related to their gender identity and understand how to deliver high-quality care to transgender and gender-diverse patients within their specialty, Kristen L. Eckstrand, MD, a coauthor of the guidelines, told Medscape Medical News.
"Many medical schools have developed their own curricula to meet these standards," said Eckstrand, medical director for UPMC LGBTQIA+ Health in Pittsburgh, Pennsylvania.
Norma Poll-Hunter, PhD, AAMC's senior director for workforce diversity, noted that the organization recently released its diversity, equity, and inclusion competencies that guide the medical education of students, residents, and faculty.
Poll-Hunter told Medscape Medical News that AAMC partners with the Building the Next Generation of Academic Physicians LGBT Health Workforce Conference "to support safe spaces for scholarly efforts and mentorship to advance this area of work."
Team Approach at Rutgers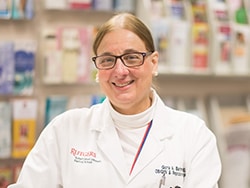 Dr Gloria Bachmann
Among the medical schools that incorporate comprehensive transgender care into the curriculum is Rutgers Robert Wood Johnson Medical School in New Brunswick, New Jersey.
Gloria Bachmann, MD, is a professor of obstetrics and gynecology at Rutgers and medical director of its partner center, the PROUD Gender Center of New Jersey. PROUD stands for "Promoting Respect, Outreach, Understanding and Dignity," and the center provides comprehensive care for transgender and nonbinary patients in one location.
Bachmann said Rutgers takes a team approach with both instructors and learners teaching medical students about transgender care. The teachers are not only professors in traditional classroom lectures, but patient navigators and nurses at the PROUD Center, established as part of the medical school in 2020. Students learn from the navigators, for instance, how to help patients through the spectrum of inpatient and outpatient care.
"All of our learners do get to care for individuals who identify as transgender," said Bachmann.
Among the improvements in educating students on transgender care over the years, she said, is the emphasis on social determinants of health. In the transgender population, initial questions may include whether the person is able to access care through insurance as laws vary widely on what care and procedures are covered.
As another example, Bachmann cites: "If they are seen on an emergency basis and are sent home with medication and follow-up, can they afford it?"
Another consideration is if there is a home where they can return.
"Many individuals who are transgender may not have a home. Their family may not be accepting of them. Therefore, it's the social determinants of health as well as their transgender identity that have to be put into the equation of best care," she said.
Giving Back to the Trans Community
Noto doesn't know whether he will specialize in gender medicine, but he is committed to serving the transgender community in whatever physician path he chooses.
Noto realizes he is fortunate to have strong family support and good insurance and that he can afford fees, such as the copay to see transgender care specialists. Many in the community do not have those resources and are likely to get care "only if they have to."
At Tulane, training in transgender care starts during orientation week and continues on different levels, with different options, throughout medical school and residency, he added.
Noto would like to see more mandatory learning such as a "queer-centered exam, where you have to give an organ inventory and you have to ask patients if it's OK to talk about X, Y, and Z." He'd also like more opportunities for clinical interaction with transgender patients, such as queer-centered rotations.
When physicians aren't well-trained in transgender care, you have patients educating the doctors, which, Noto said, should not be acceptable.
"People come to you on their worst day. And to not be informed about them in my mind is negligent. In what other population can you choose not to learn about someone just because you don't want to?" he said.
Marcia Frellick is a freelance journalist based in Chicago. She has written for the Chicago Tribune, Science News, and Nurse.com, and was an editor at the Chicago Sun-Times, Cincinnati Enquirer, and St. Cloud (Minnesota) Times. Follow her on Twitter: @mfrellick
Follow Medscape on Facebook, Twitter, Instagram, and YouTube.
Source: Read Full Article