When New York oncologist Gabriel Sara, MD, approached the French actress and film director Emmanuelle Bercot after a screening of one of her films in Manhattan, he was thinking big.
He never dreamed she would think bigger.
"I thought maybe she will do a movie about some of my beliefs," he said.
"Ma'am, would you like to go in the trenches of cancer?" he asked her, inviting her to tour the oncology department at Mount Sinai West.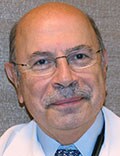 Dr Gabriel Sara
Whether it was the Lebanese-born doctor's Parisian French, his gentle, double-handed handshake, or the perpetual twinkle in his eye, something convinced Bercot to go. After the visit, she decided to base an entire film on the doctor's philosophy about death, and she even cast him as one of the leads.
With no formal training in acting, "it's incredible and prodigious what he did," said Bercot in an interview at the 2021 Cannes Film Festival, where the film, Peaceful (De Son Vivant) premiered.
"This is a guy we took from his cancer ward to a film set, and he was able to be as real and authentic as he is in his doctor's office," she said.
Sara said that authenticity came easily, given that "a lot of my dialogue — maybe most — came from things I shared with Emmanuelle," he said in an interview with Medscape Medical News. "She took the information from me, and she created the whole story. She studied my character and came up with really all the messages that I was hoping to share."
He also said that acting alongside professionals was not intimidating once he realized he was simply playing himself. "At some point…it clicked in my head. Let me stop acting — I should just be me," he recalls.
Peaceful, performed in French with English subtitles, was nominated for Best Film at the 2022 Lumières Awards.
It tells the story of a 39-year-old man (played by French actor Benoît Magimel) diagnosed with stage 4 pancreatic cancer and the journey, along with his mother (played by renowned actress Catherine Deneuve), through diagnosis, denial, and eventual acceptance of his death.
It is also the story of an oncologist, played by Sara as himself, who takes his patient by the hand, and refuses to sugar-coat the truth, because he believes that it is only by facing the facts that patients can continue to live — and then die — in peace.
"You'll never hear me say I'll cure your cancer. I'd be a liar if I did," he tells his patient in the film.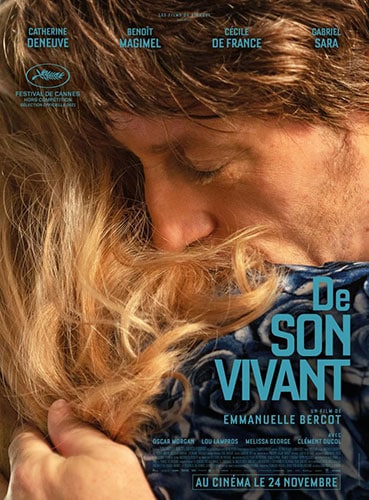 Peaceful, featuring Dr Gabriel Sara as a compassionate oncologist, was nominated for Best Film at last year's Lumiére Awards in France.
"Patients put their life in your hands, so if you don't tell them the truth you are betraying them," he explained in the interview. "I have refused to see patients whose family did not allow them to come to the consultation to hear the truth…Nobody hears the truth and feels great about it the next day, but the truth helps them focus on what they need to deal with. And once they focus, they're in control…a big part of what is terrible for patients is that loss of control."
The approach may sound harsh, but it is portrayed tenderly in the film. "[Your mother] thinks that half-truths will hurt you half as much," he tells his patient gently, but "the scariest thing is realizing someone is lying to you…We have a tough journey ahead, there's no room for lies…For me, truth is non-negotiable."
Sara is brimming with stories of real-life patients whose lives were enriched and empowered by the clarity they gained in knowing the full truth.
However, not all oncologists agree with his style.
After screenings of the film in other parts of the world, and even in the United States, he has encountered some physicians who strongly disagree with his uncompromising honesty. "You always have somebody who says you know, in America, you will receive the truth but not in our culture — people are not used to it. I hear this all the time," he said.
"And a long time ago, I decided I'm not going to accept that conversation. Truth works with all patients across all cultures," Sara insists.
"However, as caregivers, we have to be sensitive and present to the kind of culture we are dealing with. The content has to be always 100% honest but we adapt our language to the cultural and emotional state of the patient in order to successfully transmit the message," he adds.
Helping patients digest the news of their diagnosis and prognosis has also been Sara's recipe for his own survival at work. Now 68 and recently retired as medical director of the Chemotherapy Infusion Suite and executive director of the Patient Services Initiative at Mount Sinai West, he says he emerged from 40 years of practice without burning out by learning to step in-time with each patient.
Benoît Magimel, left, and Dr Gabriel Sara in the film Peaceful (De Son Vivant). Magimel plays a patient with pancreatic cancer and Sara plays his oncologist.
"My recipe for it is Tango," he smiles. Regular Tango performances on his cancer ward were one of his many real-life techniques that Bercot incorporated into the film. "I feel that we have to dance closely with our patients' emotion," he explained. "We have to feel our patients' emotion and work with that. If you don't move in harmony with your partner, you trip together and both of you will fall," he told an audience after a screening of his film in New York City.
"I completely try to isolate my mind from anything else in order to be with the patient — this is what presence is about for me — to be right there for them, close to them. To spend that whole moment with them. That's what will make the consultation really helpful, and will make me feel that I can move to the next page without feeling exhausted from the first one."
A key scene in the film comes after the patient's mother is stunned to discover a cheerful Tango performance on her son's ward, and confronts the doctor angrily.
"It's like I'm abandoning him," she says tearfully, when the doctor urges her to accept that her son's chemotherapy is no longer working and let him live what life he has left. "Give him permission to go," he urges her. "It would be your greatest gift of love."
Sara encourages a similar approach in his staff. He warns them about the "hero syndrome," in which dying patients are made to feel they need to "hang on" and "fight" for the sake of their caregivers and families.
"The patient never asked to be the hero, but our attitude is telling him that he's the hero," he says in the film. "That puts him in an intolerable impasse because he figures that if he gives up, if he dies, he's betraying his fans. He needs the exact opposite: to be set free. He needs the permission to die. That permission is given by two people: his doctor and his family."
Of course, not all cancer patients have such a dim prognosis, and Sara is the first to forge ahead if he feels it's appropriate. "If, if there is no option for them, I'm going to be aggressive to protect them. But when there is a curable disease, I will go broke to try to treat my patient. I'm willing to give them toxic drugs and hold their hand, get them through the storm if I believe it's going to cure what they have, and I will coach them to accept being sick."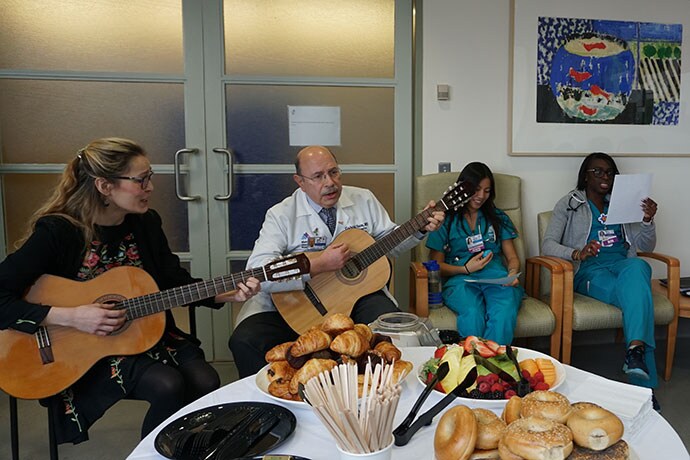 In the film — and in real life — Dr Sara often plays guitar at breakfast music sessions with his staff in which he encourages them to express their feelings about patients' struggles.
He also believes in physical contact with the patient. "If we have some intimacy with the patient, we can at least palpate the kind of person they are," he says. But his wife Nada pointed out that physical examinations can sometimes make patients nervous. "She told me, if you have a tie, they might have fun looking at it." Thus began Sara's collection of about 30 fun ties decorated with unicorns or jellyfish tailored to various patients' preferences.
In the film, his patient teases him about this quirk, but Sara insists it is a small gesture that carries meaning. "One patient told me a story about love bugs. She would see them in her kitchen when she was feeling well — so lovebugs became a sign of hope for her. I was telling the story to my wife…so she got me a tie with lovebugs on it, and my patient was so happy when she saw me wearing that."
In the film — and in real life — Sara often played guitar at breakfast music sessions with his staff in which he encouraged them to express their feelings about patients' struggles. "If you cry, don't be ashamed. Your patient will feel you're with him," he said in the film. In the final scenes, wearing a cloud-covered tie, he says goodbye to his patient with tears in his eyes. "They [the tears] are sincere," he recalls. "Because I really felt I was looking at a dying patient. I really did."
Kate Johnson is a Montreal-based freelance medical journalist who has been writing for more than 30 years about all areas of medicine.
For more news, follow Medscape on Facebook, Twitter, Instagram, YouTube, and LinkedIn
Source: Read Full Article