British tabloids report Meghan Markle may have had a water birth at the hospital.
Water births typically happen in a birthing pool in water that's about 18 inches deep.
According to the American College of Obstetricians and Gynecologists, actually giving birth in water is recommended against, though going through labor in water may help with pain.
Meghan Markle wasn't able to birth Baby Sussex (officially known as Archie Harrison Mountbatten-Windsor) at home like she reportedly initially wanted—but the Duchess may have still gone a little rogue, regarding royal birthing protocol.
According to the British version of OK!, Meghan really, really wanted to have a water birth in a birthing pool, making her the first royal ever to do so.
While it's unclear whether or not Meghan was actually able to have a water birth—at the hospital, of course—reports of the type of birth have definitely raised questions. Like, uh, what exactly is a water birth and how safe is it?
So what exactly is a water birth?
It's exactly what it sounds like: You give birth in water. This can be anything ranging from a birthing pool at a hospital to a blowup or plastic kiddie pool you whip out at your own house—as long as the water is about 18 inches deep, per The New York Times. There's no water birth regulatory system in place to spell out what you should and shouldn't do, but it's generally recommended that the pool be deep enough to cover your belly.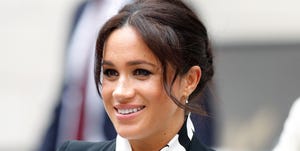 The idea behind it is pretty simple. The buoyancy of the water can help you move into different positions and, as people who are pro-water birth claim, it can shorten labor and make your contractions more comfortable.
Well, are water births safe?
Here's the thing: The method isn't supported by the American College of Obstetricians and Gynecologists (ACOG). "It is the recommendation of the American College of Obstetricians and Gynecologists that birth occur on land, not in water," the organization said in a committee opinion in 2016. The reason for this largely seems to revolve around the fact that this hasn't been studied a lot (and, as a result, the number of U.S. water births are unknown, per the NYT) So, as a result, ACOG says they can't lend their support to it.
ACOG also says that being in water during labor is fine, but they'd really prefer you hop out of the tub for the actual birth part. "Water delivery has no proven benefit to women or babies and may even pose a risk of serious health problems for the newborn," they say.
The potential issues they list off are pretty freaky: Infection of you and the baby, difficulty regulating the baby's body temperature, increased chance of umbilical cord damage, respiratory distress from the baby inhaling tub water, and the potential for asphyxia and seizures.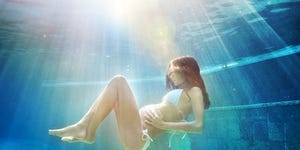 It seems like this is somewhat common in the United Kingdom among women who want to have unmedicated childbirths. All but one of the UK's 275 maternity hospitals now offer birthing pools, according to The New York Times. And, per the Care Quality Commission's most recent maternity care survey found that, in 2018, 10 percent of new mothers in Britain gave birth into water, while nearly 20 percent used water or a birthing pool for pain relief during labor.
Again, it's unclear exactly how Archie arrived (and honestly, most of us may never know), but at least every one seems happy and healthy now, and really, that's all that matters.
Source: Read Full Article