Like most people trying to lose weight and get in shape, British entrepreneur and reality TV star Spencer Matthews was aware of what healthy eating looks like. But simply avoiding junk food and maintaining the requisite calorie deficit to hit 5 percent body fat are very different beasts.
The simplest way to do this is to hand things over to the professionals. In this case, they were the nutritionists and chefs at UK-based Men's Health Fuel. Throughout the transformation, Matthews took delivery of four meals from the Lean plan, three days a week. (If you happen to be stateside, here are 8 US-based services that will make your meal prep even easier.)
But to prove it can also be done with a little elbow grease in the kitchen, he was left to fend for himself for the rest of the week—relying on the simple, healthful meals below to get him through. There was still room for clean G&Ts after work and weekend takeaways, too.
To reign in his portion control, Stafford cut him a deal—he could pile his plate as high as he liked, as long as it was a side plate. Really it all came down to discipline. "In the run-up to the photoshoot I'd finished three of my four Fuel boxes by 11 am," recounts Matthews with a grimace. "I messaged my trainer Shaun Stafford to plead for an extra meal. His response was 'tough luck!', making room only for extra celery sticks, watermelon fingers or Diet Coke." It paid off though, and made the two burgers from Five Guys after the final photo all the more satisfying. Here's a look at the meal plan that helped him get there.
Spencer's DIY Diet Plan
Breakfast: Overnight Oats and Egg on Toast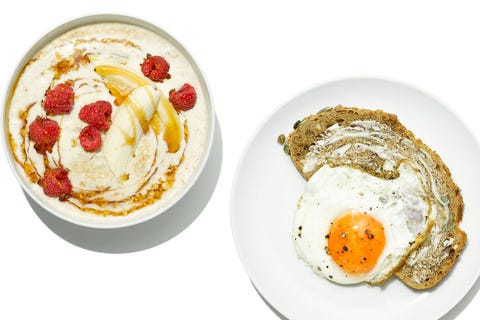 Oats, 50g
Oat milk, 100ml
Raspberries, handful
Banana, 1/2
Agave syrup, drizzle
Plus
1 medium egg, fried
Lightly-buttered seeded toast
Method
Soak the oats in the milk overnight then top with fresh fruit and syrup before eating. Fry the egg in butter on a medium heat and serve sunny-side up on toast. The egg's protein and oats' fibre combine to stop you feeling hungry even on a calorie deficit.
Lunch: Lamb Loin with Cauliflower Puree and Broccoli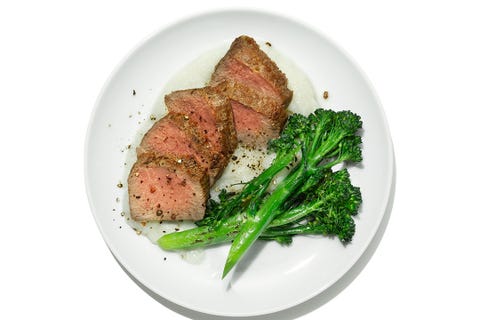 Lamb loin, 1
Cauliflower, ½ head
Chicken stock, cup
Butter, knob
Tenderstem broccoli, 100g
Lemon, ½
Method
Season then seared the lamb loin in a pan before roasting at 350 degrees for 8 mins until medium rare. Cut and cook the cauliflower in a pan with the chicken stock for 10 mins then puree in a blender with a knob of butter. Sautee the broccoli in a frying pan for 5 mins then finish with a drizzle of lemon.
Dinner: Shish Taouk and Tabbouleh Salad from Maroush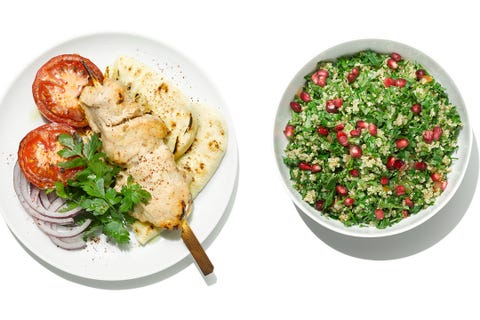 Method
Order, open the door to the delivery man and then get stuck in. By cutting out his usual hummus and halloumi sides, Matthews saved calories without having to give-up takeaways for 10 weeks.
Drink: Gin & Tonic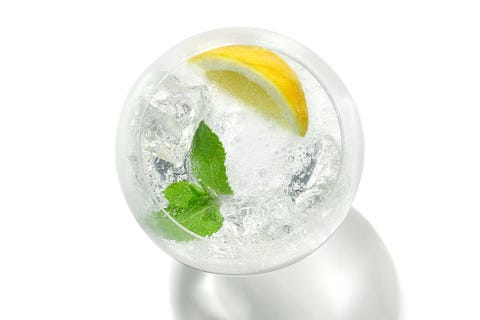 Clean Co. Gin, 50ml
Tonic water, 100ml
Ice, lots
Lemon, wedge
Mint, sprig
Method
Pour the gin and tonic over ice, garnish and relax.
Source: Read Full Article