The administration of comfort care intervention (CCI) to patients with acute ischemic stroke has increased in the United States, regardless of the type of acute treatment these patients receive, a new study suggests.
But researchers did find gender-, race-, and region-based disparities in the administration of CCI. In addition, patients who received thrombolysis or thrombectomy were more likely to receive comfort care than those who did not.
Other results showed that over time, provision of comfort care was associated with reduced in-hospital mortality compared with other dispositions, as well as with reduced costs per hospitalization.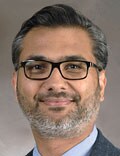 Dr Farhaan Vahidy
Although CCI is now used more widely than before, a gap between need and utilization is apparent, Farhaan S. Vahidy, PhD, MBBS, MPH, associate director and associate professor at the Center for Outcomes Research, Houston Methodist Research Institute, Houston, Texas, told Medscape Medical News. "Multilevel factors that impede utilization need to be evaluated, and mitigation strategies developed," he said.
As with other aspects of stroke care and outcomes, the gains made over time in CCI have not been distributed equally, he added. "This may also be the case here, hence, particular attention needs to be focused on closing the disparities gap in providing much-needed holistic care to stroke patients to facilitate recovery, reduce care-provider burden, and ultimately improve patients' quality of life."
The findings were published online April 7 in Journal of the American Heart Association.
Increases Over Time
Although treatment has improved significantly, stroke remains a major cause of death and disability, the researchers write. Patients with stroke and their families have great need of CCI, which encompasses hospice (which is reserved for those with terminal illness) and palliative care (which is regarded as appropriate at any stage of illness). Previous research has identified differences in the use of CCI with respect to race, region, and hospital type.
Vahidy said that because the acute treatment options for ischemic stroke have broadened, including better utilization of acute thrombolytic therapies, "we wanted to evaluate utilization of CCI in this subpopulation of ischemic stroke patients. Furthermore, race disparities in utilization of CCI among ischemic stroke patients had not been evaluated before."
The researchers used data from the National Inpatient Sample (NIS) to assess nationwide trends in the use of CCI for patients with acute ischemic stroke. The researchers also studied outcomes, including mortality, discharge disposition, length of stay, and costs.
The NIS is the largest publicly available inpatient healthcare database in the United States. It includes data for patients with public and private insurance, as well as those without insurance.
The researchers included data from 2006 to 2015 in their analysis. They adjusted for variables related to demographics, healthcare system, comorbidities, and disease severity.
In all, they included 4,249,201 ischemic stroke encounters in their analysis. The mean age of the population was 70.9 years. About 52% of participants were women, and 70% were White. Overall, 3.8% of the sample received CCI.
The researchers analyzed changes during the 10-year study period and between five 2-year periods. During the period 2014–2015, patients with stroke were 4.8 times more likely to receive CCI than they were during the reference period of 2006–2007. The likelihood of receiving CCI increased during each successive 2-year period.
After accounting for all variables, the researchers found that the likelihood of receiving CCI was 6% higher among patients who received IV tissue plasminogen activator and 10% higher among patients who received endovascular therapy, compared with patients who received neither.
Patients with disease of greater severity and those who had more comorbidities were more likely to receive CCI than patients with less severe disease and fewer comorbidities. For example, among patients whose Charlson comorbidity index was ≥4, the adjusted odds ratio (aOR) of their receiving CCI was 1.43 in comparison with patients whose Charlson index was 0 or 1.
Racial Disparities
The likelihood of receiving CCI was lower among Black (aOR, 0.59), Hispanic (aOR, 0.72), Asian (aOR, 0.72), and Native American (aOR, 0.74) patients, compared with White patients.
"Several patient-, provider-, and system-level factors have been cited in literature that lead to such inequities," said Vahidy. "These may include differences in access to care, including how the larger healthcare system provisions such services, patients' and families' preferences, and healthcare-system-specific workflows."
Higher income and having insurance other than Medicare were associated with a higher likelihood of receiving CCI. Patients in western states were more likely to receive CCI than those in northeastern states (aOR, 1.27).
The data do not suggest clear reasons for the low rate of the use of CCI in the northeast. "Detailed analyses of hospitals' subtypes, patient management protocols, clinical markers of disease severity, and coding practices may be needed to understand this difference," said Vahidy.
CCI was associated with an approximately fifteenfold higher rate of in-hospital mortality. Yet in-hospital mortality declined over 10 years among patients who received CCI in comparison to patients with other discharge dispositions.
The mean length of stay was 5.9 days for patients who received CCI and 5.1 days for patients who did not receive it. The aORs of longer stay for patients with CCI, compared to patients without CCI, was 0.97.
The average cost per hospitalization was about 16% higher among patients who received CCI than among those who did not. But after the investigators adjusted the data for length of stay, death, age, and disease severity, they found that the average cost per hospitalization was about 16% lower for patients who received CCI.
Utilization Gap
The trends toward increased CCI use and decreased in-hospital mortality seem to reflect in part a growing focus on the process and location of dying for people with severe, fatal strokes, Steven M. Greenberg, MD, PhD, John J. Conway Endowed Chair of Neurology at Massachusetts General Hospital, Boston, Massachusetts, told Medscape Medical News.
Dr Steven Greenberg
"These trends are likely to the benefit of patients and families, as few patients want to die in the harsh hospital environment (grown harsher still in the COVID-19 era)," he notes. "They may also reflect the hospital's incentives to reduce in-hospital mortality, a statistic used — and sometimes misused — to evaluate hospital quality."
The apparent variations in CCI use are potentially worrisome and could be an important target for reducing disparities in the treatment of patients with stroke who are not White, Greenberg added.
"As in any database-driven study, it is difficult to draw conclusions about causation or to analyze every potentially important covariate, but the robust NIS source of data is also a considerable strength for the study," he said. "Overall, the authors are commended for rigorously analyzing use of CCI, an increasingly important modality in stroke treatment."
The study was supported by a grant from the National Institutes of Health. Vahidy and Greenberg have disclosed no relevant financial relationships.
J Am Heart Assoc. Published online April 7, 2021. Full text
For more Medscape Neurology news, join us on Facebook and Twitter.
Source: Read Full Article