Children are waiting up to 12 months for critical developmental therapy because of a shortage of paediatric occupational therapists, clinic owners say.
The profession – which provides services such as physical therapy, handwriting support, behaviour management and social skills development – is struggling to cope with the increased demand generated by the National Disability Insurance Scheme.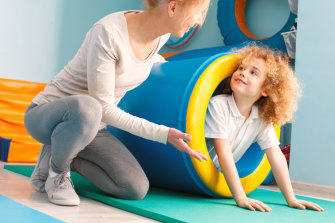 Paediatric occupational therapists provide a range of services from physical therapy to behaviour management.Credit:iStock
"The NDIS is a wonderful thing, but at the same time it's the biggest structural change for health service delivery," said Aaron Jackson, owner of Child Sense in Annandale. "It will take a few years [for the industry] to adjust."
A spokesperson for the Department of Social Services said about 90,000 full-time equivalent workers would be needed to deliver NDIS services by 2023 and about 11 per cent of those roles would be in allied health services, including paediatric occupational therapy.
Occupational therapy can benefit children with straightforward delays in coordination and fine motor skills through to those with more serious problems eligible for NDIS funding, such as physical disability or autism.
Mr Jackson said Child Sense had expanded significantly under NDIS. Almost half the families in his service had NDIS funding, up from 30 per cent six months ago, while the remainder were privately funded or subsidised by Medicare care plans or private insurance.
Mr Jackson said he was struggling to recruit and retain enough experienced therapists to meet the increased demand, resulting in long waiting lists and the risk of "disjointed therapy" if staff left the service.
Mr Jackson is already supervising several less experienced therapists in his own practice while providing external supervision services to three other clinics in the inner west.
Anita Volkert, the national manager for professional practice and development at Occupational Therapy Australia, said there was a shortage of occupational therapists across the board. But while sectors such as aged care have longstanding recruitment challenges, practitioners say it's a new development in paediatrics.
Five years ago Emily Saunderson, the owner of Kickstart Kids Therapy in Randwick, could advertise a job and attract 20-30 applicants with a wide range of experience. Now she might only get five applicants and not all would be qualified.
Kickstart was able to meet demand for physiotherapy and speech therapy but families could be waiting for occupational therapy for six to 12 months. "It's a long time and we don't want it to be that way," Ms Saunderson said.
At Child Sense, the waiting time for traditional occupational therapy services such as handwriting and coordination was three to six months, while it was twice that for complex problems requiring a senior therapist, such as behaviour management.
Sophie-Anna Barling, co-owner of Qualia Occupational Therapy in Hunters Hill and chairperson of a paediatric interest group under Occupational Therapy Australia, said new families would usually wait at least a term, a problem given the importance of early intervention.
Ms Barling said there was "definitely a shortage" but the NDIS was not the only cause.
"There's been a massive increase in the understanding of the role of an occupational therapist particularly in paediatrics," Ms Barling said. "A lot more kids are coming to services like ours and that's resulting in waiting lists because there's not the workforce to absorb that."
The profession is growing. In March 2019 there were 22,199 registered occupational therapists across Australia, 38 per cent higher than five years earlier, according to figures from the Australian Health Practitioner Regulation Agency. In NSW, the numbers grew from 4551 to 6185 over the same time frame.
However, retention is a problem. AHPRA figures show more than 90 per cent of registered OTs are women and Ms Volkert said a lot of therapists dropped out or worked part time after having children. "It is also a highly person-centred profession, so people do burn out," she said.
Source: Read Full Article