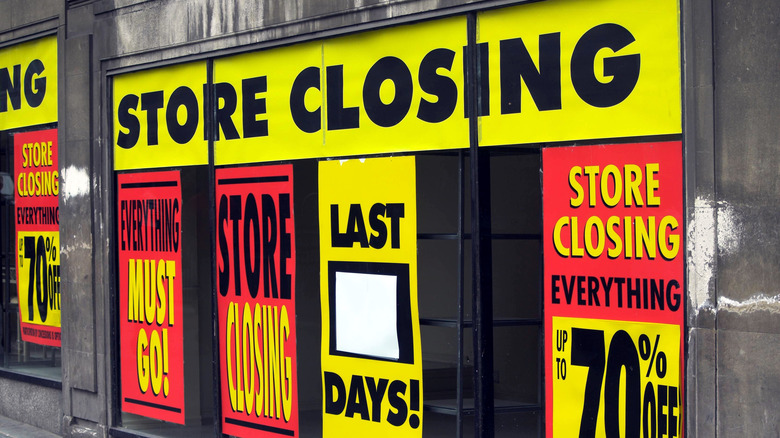 As vaccination rates rise, and infection rates fall, many of us may be aching to go outside and pick up where we left off more than a year ago. Yet, as businesses start to reopen, we may discover that the world that we're returning to isn't exactly the same world as the one we left behind — and this is especially true of our favorite malls and their anchor department stores. 
Since February of last year, we've seen many of our favorite retail brands file for bankruptcy — including Brooks Brothers, Lane Bryant, J.Crew, and L'Occitaine (via NBC). But as CB Insights points out, department stores are at bigger risk, because they went into the pandemic already crippled by the decline in foot traffic, the rise of online shopping as well as the presence of sizable corporate debt in their books. These former department store giants include Neiman Marcus, Lord and Taylor, JCPenney,and New York's iconic Century 21.
Department store woes began long before the pandemic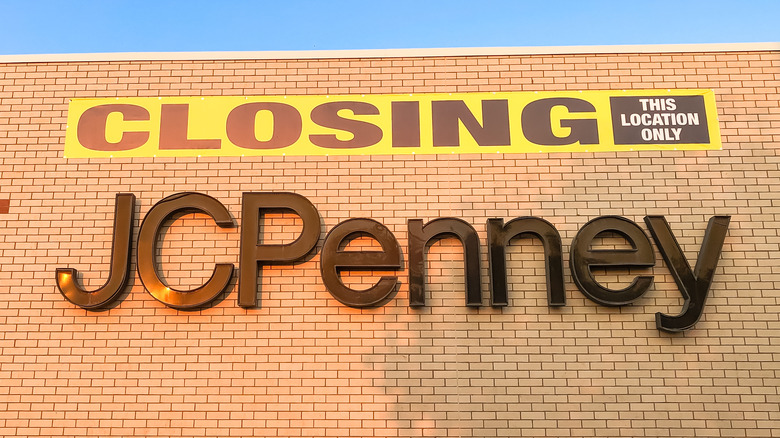 Insider believes that the retail apocalypse didn't actually start with the pandemic, nor did it begin with the rise of Amazon — its roots go back much further than that, and to the 2008 financial crisis. When the housing bubble burst, tens of thousands lost their jobs and with that, the ability to spend. Because it took a while for the country to come back from the devastating impact of the Great Recession, a number of big name department stores ended up going to private investment firms to get the cash they needed to keep going. 
In one sense, asking these firms for a bailout made sense because, as analyst Philip Emma told Retail Dive in 2018, these institutional investors brought something to the table. "You have some firms that specialize in certain industries because they've done those deals, and they know the companies and they know the industry," he said. As a result, store management were likely to hear pitches from big investors that outlined their experience in owning retailers, including knowing landlords, distributors and suppliers.
Retailers entered a Faustian deal with private equity firms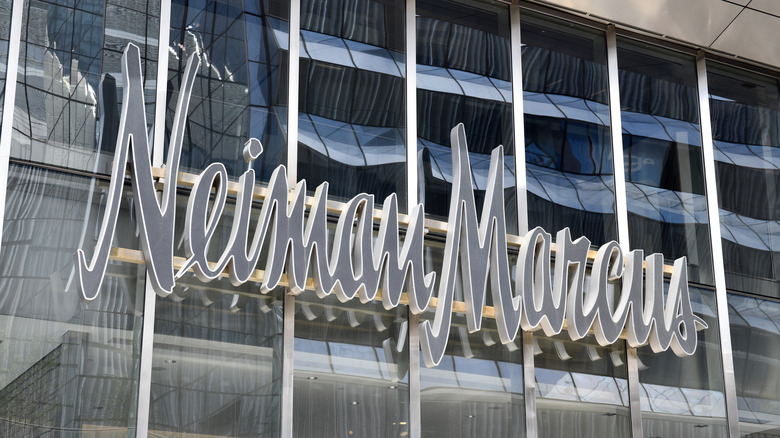 While the deals gave these department stores the quick cash they needed to stay afloat, it also meant that they were taking on debt, and plenty of it. Just to name a few examples: The New York Times points out that at the time the coronavirus pandemic first struck, J.Crew carried $1.7 billion in debt, while Neiman Marcus was in the red for $5 billion. While they were able to pay off hundreds of millions in interest and fees when times were good, the means to settle what they owed vanished when people stopped shopping. Worse, because they were busy trying to stay ahead of creditors, they weren't agile enough to move online, so they could compete with the likes of Amazon. 
As Duke University School of Law's Elisabeth de Fonteney explained, "Much of the difficulty that the retail sector is experiencing has been aggravated by private equity involvement. To keep up with everybody's switch to online purchasing, there really needed to be some big capital investments and changes made, and because these companies were so debt strapped when acquired by private equity firms, they didn't have capital to make these big shifts."
The impact of losing a department store is significant for a mall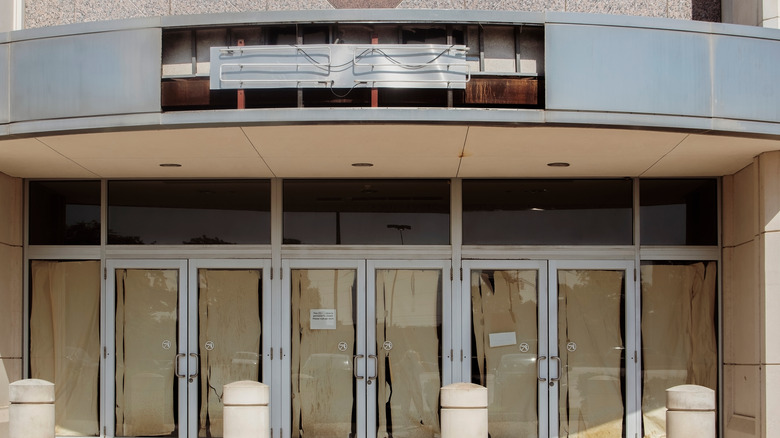 Losing a department store might not sound like much — but the impact of that vacuum is significant for the mall that leases that anchor store space, and for the smaller retailers that operate around it. University of Connecticut's Center for Real Estate's John M. Clapp told Insider in 2017 that a mall can suffer once a department store shuts, because "once a department store goes vacant that tends to be contagious because all those middle-mall stores — the nail salons and the jewelry stores — they are all depending on the traffic coming from the bigger retail stores." As a result, 25% of malls could be closed in the next five years (via CNBC). 
But it's not all bad news for the industry. As Forbes points out, the country's family-owned or family-managed department stores might have gotten battered and bruised by shelter-in-place orders, but they managed to adapt to changing times. Nordstrom, for instance, reported a successful shift from brick-and-mortar to a souped-up e-commerce platform. Dillards has also done well for itself, as have discount retailers like Kohl's, which it said added a head-turning 2 million new customers, thanks to a partnership with Amazon (via CNBC).   
The retail apocalypse is far from over, but when it is, surviving department stores are going to be different from the way we knew them to be. What shape that takes will be something we will find out soon enough.
Source: Read Full Article